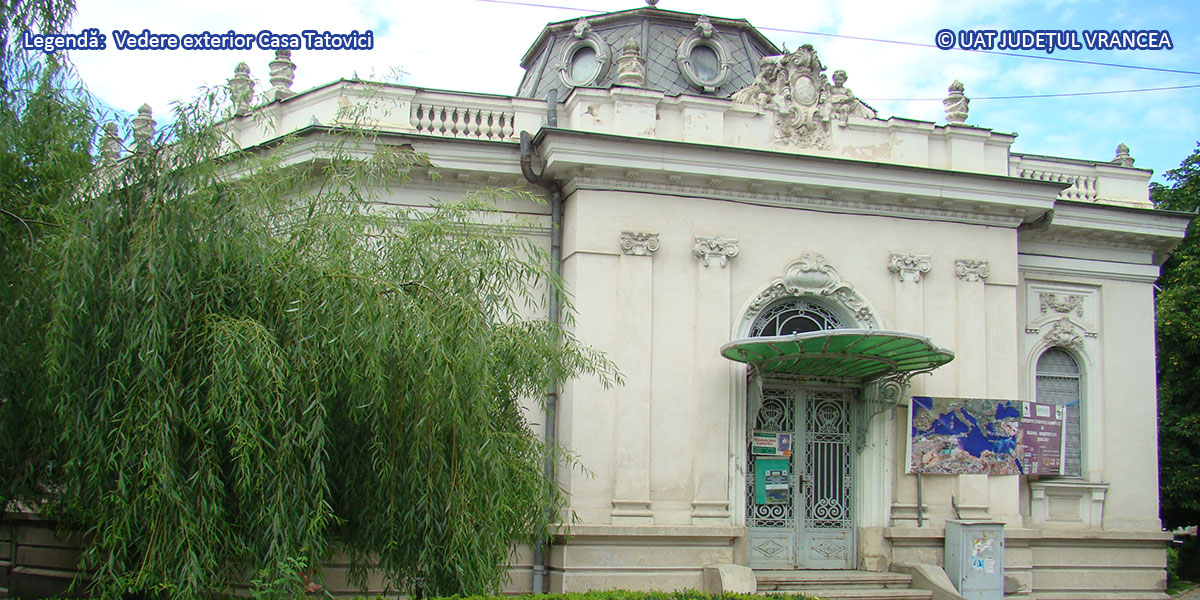 Consolidation and restoration Department of Natural Sciences and Aquarium – TATOVICI House (Casa TATOVICI)
The territorial administrative unit Vrancea County presented the SCIENTIFIC CONSOLIDATION AND SCIENTIFIC RESTAURANT AND ACQUARIU – CASA TATOVICI project within the framework of the Regional Operational Program 2014-2020, Priority Axis 5: "Improving the Urban Environment and Conservation, Protection and Sustainable Valuation of Cultural Heritage", Investment Priority 5.1 : "Conservation, protection, promotion and development of natural and cultural heritage". The Financing Contract was concluded on 04.09.2017 between the Ministry of Regional Development and Public Administration and the European Funds as the Managing Authority for the Regional Operational Program 2014-2020 through the South Eastern Regional Development Agency as Corporate Intermediary for Regional Operations 2014- 2020 and Vrancea County Administrative Unit as a beneficiary.
The general objective of the project is to strengthen, restore and enhance the historical monument, the Natural Science and Aquarium Department – the Tatovici House, in order to capitalize on the local cultural heritage and cultural identity and to present it to the visiting audience.
The specific objectives of the project are:
Consolidation, restoration and revaluation of the historical monument of the natural sciences and aquarium – Casa Tatovici;
Appropriate endowment of the restored and restored monument – Natural Sciences and Aquarium – Casa Tatovici;
Inclusion of the consolidated and restored goal in the tourist circuit;
Digitization of the project as a result of the consolidation and rehabilitation of the historic monument;
Promote the project and the historic and consolidated monument.
Project results
Consolidation and rehabilitation of the heritage building and its redevelopment in the tourist circuit as well as the 72,34% increase in the expected number of visits to the supported cultural patrimony objective.
The target group of the project is the potential visitors who will benefit from the services provided by CASA TATOVICI. The target group consists of individuals of any age and legal person, from Focsani, but also from Vrancea County.
The duration : 04.09.2017 – 31.12.2023.
The total value of the project is 11 589 292,38 lei (of which the eligible total value of the project is 11 516 821,38 lei), the required financial assistance is 11 286 484,95 lei (of which the eligible non-reimbursable amount ERDF is 9 789 298,17 lei, the eligible non-reimbursable amount from the national budget is 1 497 186,78 lei), and the eligible co-financing of the beneficiary is 230 336,43 lei. The contribution of the applicant to the ineligible value, including VAT, is 72,471.00 lei.
Beneficiary: The Territorial Administrative Unit Vrancea County, headquartered in Bd. Dimitrie Cantemir Street, no. 1, loc. Focsani, Vrancea county, postal code: 620098, Romania.
Telephone: 0237.213.057 E-mail: contact@cjvrancea.ro
Contact person: Mrs. Oanele Luminiţa – Project Manager