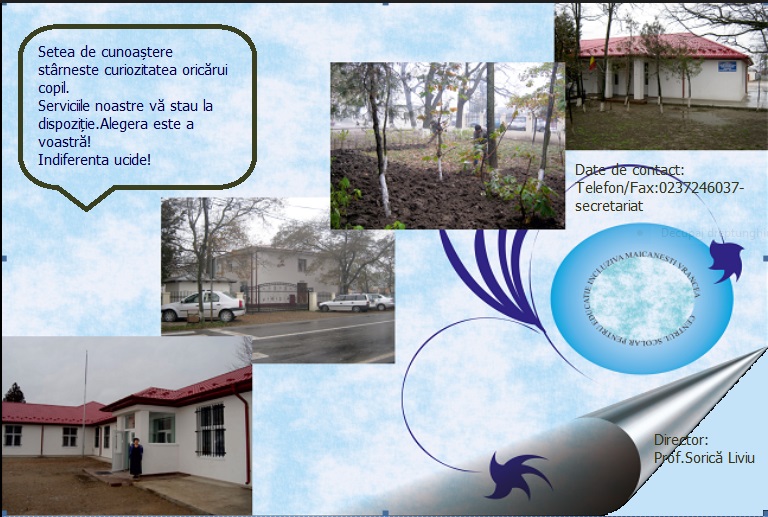 The school centre for Inclusive Education Maicanesti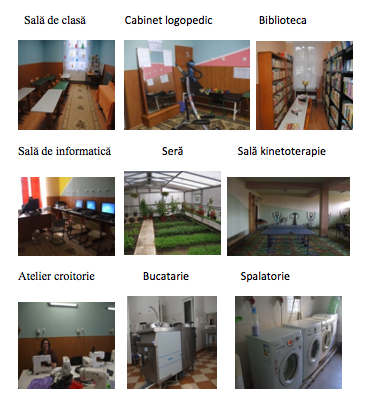 Material resources:
– newly furnished classrooms
– speech therapy cabinets (speech correction)
– medical cabinet
– lecture hall
– library/ internet access / computer rooms
– gym (psychomotor recovery)
– eating house (dining room)
– sports field
– club for extracurricular activities, play or entertainment
– newly furnished bedrooms, toys, TV
-satellite for acquiring trades
– workshop
– greenhouse
All children benefit FREE of charge of:
– meal, accommodation, equipment and school supplies
– access at the institution's phone (they can be called from Monday to Friday, between 9.00 and 13.00 and they can call weekly at home)
– thermal comfort, the institution having its own thermal power plant
– access to education, recovery programs and entertainment programs
     
Educational offer
"We are weak and we need power; we are helpless and we need help; we are magnificent and we need judgment. What we lack when we come into the world, and that we need later, is given to us through education."                                                                   (J.J. Rousseau)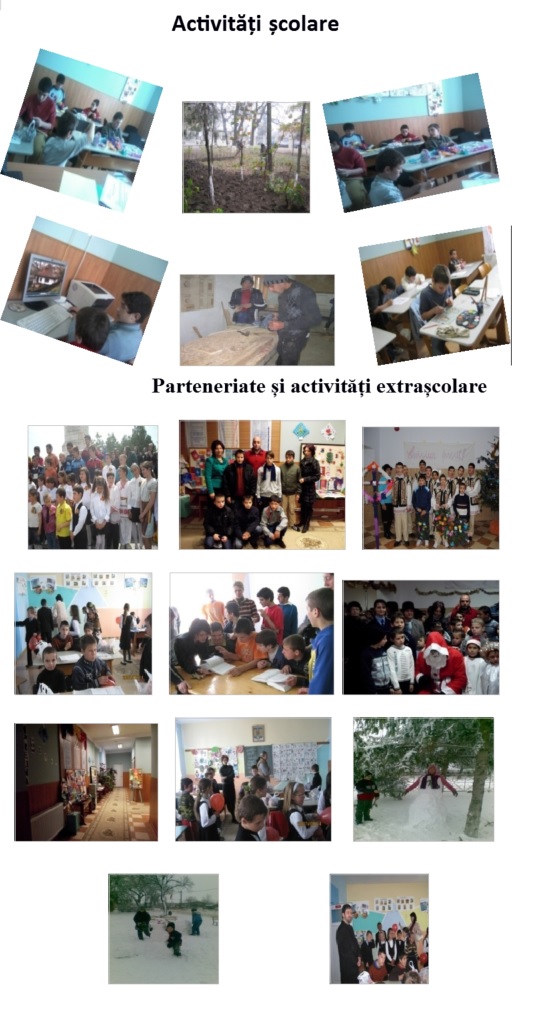 The values we cultivate for our students:
Kindness                  Respect
Correctness             Responsibility
Generosity               Tolerance
Honesty                    Will
Perseverance
Human Resources:
– professors
– administrative personnel
– 32 teachers with experience in pedagogy and special psycho-pedagogy
– 2 speech therapists
– 2 nurses
– 4 education instructors
– 4 supervisors
– 1 social worker
– 1 computer scientist
The teaching staff is very well trained, constantly concerned with the quality of the educational act. The teaching staff of the unit consists of qualified teachers, which ensures a high degree of teacher stability in the classroom, which is beneficial to the educational instructive process.
Our teachers are recommended by:

● Participating with students in various educational projects
● Attending professional training courses
● Organizing school holidays, excursions and other extracurricular activities
Educational projects:
1. Together we will be better! – a project carried out in collaboration with the County School Centres, the General School in the commune, and the Children's Palace from Focşani
2. "Trinkets Fair" – in collaboration with School no. 7 from Galati
3, "Hand's ode" – in collaboration with the School Centres in the county
4. "The joy of the Easter holidays" – in partnership with the School Structura Frecăței from Tulcea County
We are also in the process of developing a project for setting up a children's playground in the school and modernizing the sports ground.
Address: comuna Măicăneşti, jud.Vrancea
Director: Taraș Nina
Contact:

Tel: 0237.246.132, 0237.246.037
email: csei.maicanesti@yahoo.com