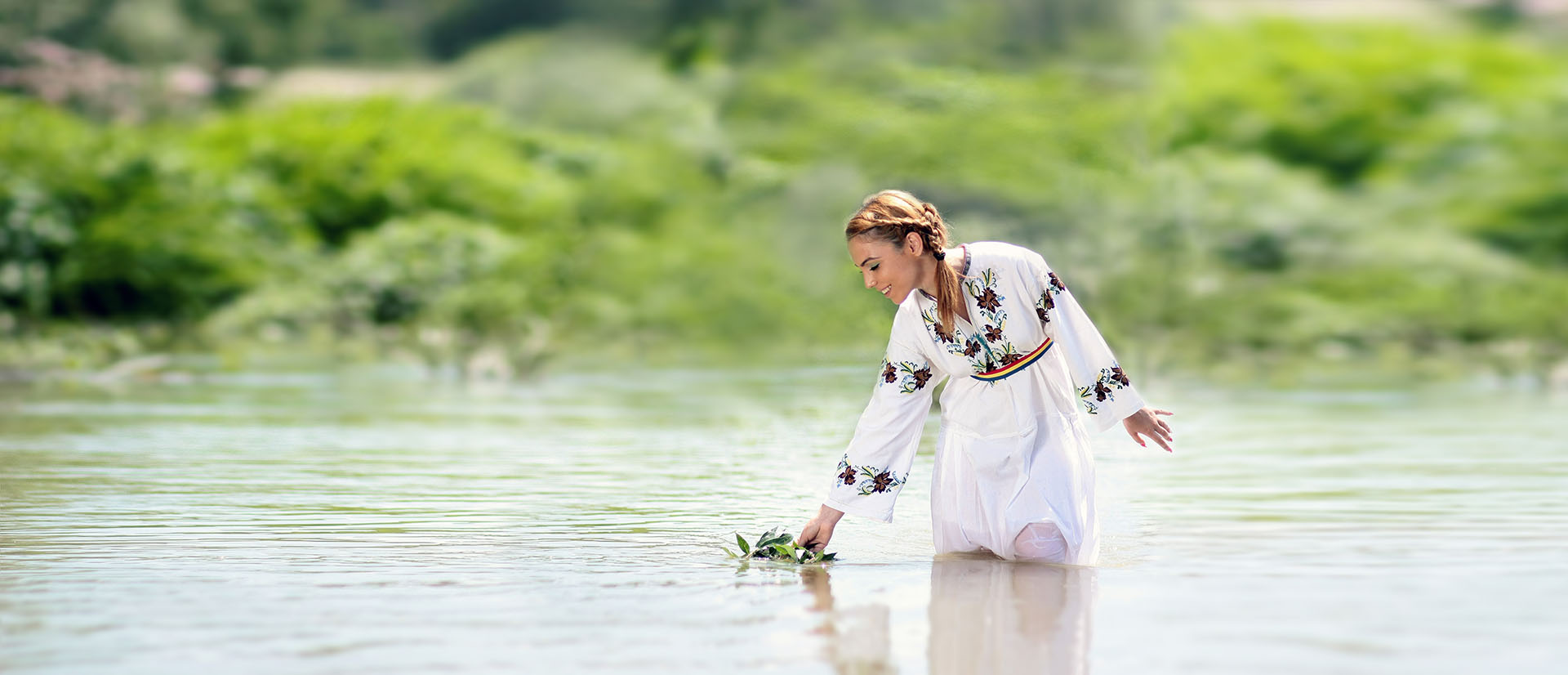 Culture and traditions
Pastoral Vrancea is the owner of the old traditional folk crafts: shepherd, smoked curd, wood carving (the small cooperage, the patterns and the puppets of the curd, trinities, the household objects), the pottery, woven canvas, fabric, woven towels, sewing/ embroidery of the popular costumes, folk instruments makers (flute, cavalry, penny trumpet, pipe, alphorn, ocarina) from Nereju, Nistoreşti, Spulber and the authentic traditional masks from Nereju, Năruja, Vintileasca, practiced especially in the mountain area, artistic processing of osier, artistic processing of reed mace at Suraia and finally the craftsmanship of the wine with its excellent local varieties gathered in vineyards and processing, storage and tasting wineries, reunited in an ancient "Wine Road", such as Cotesti, Jariştea, Odobeşti and Panciu.
The authentic popular costume, sober or colourful, depending of the age, discreetly decorated but of effect, worn with pride and elegance by locals, convincingly illustrates the continuity and cultural ethnographic unity of our people.
Vrancea Land is scattered with historical vestiges, monuments and places of worship of inestimable value, such as: "Precista" Church, "Naşterea Maicii Domnului" Church, Vrancea Museum with its sections, all located in Focşani, Soveja Monastery, Mănăstirea Mera, Dălhăuţi Monastery, Vizantea Monastery, Lepşa Monastery, Recea-Cândeşti Monastery, "Moş Ion Roata" Memorial House from Câmpuri, Tudora Vrâncioaia's Memorial House from Bîrseşti, Paltin Ethnographic Museum, Putna Waterfall, Mausoleums from Focşani, Mărăşti, Mărăşeşti, Soveja.
After such a journey, full of symbols of historical and cultural significance, you are invited in the silence of the reading rooms of the "Duiliu Zamfirescu" County Library in the capital of Vrancea, Focșani, whose attestation (book loans) dates from 1881, at present being the most representative and requested public library of the city and our county. In the evenings, when the city's uproar is getting quiet, you can book a seat in the lodge of the Municipal Theatre "Mr. Gh. Pastia" or those of the People's Athenaeum" Mr. Gh. Pastia" or the "Vrancea Country's" Folk Ensemble to watch a theatre show, a chamber concert or a folk show that can complete the cultural and historical image of today's Vrancea image.