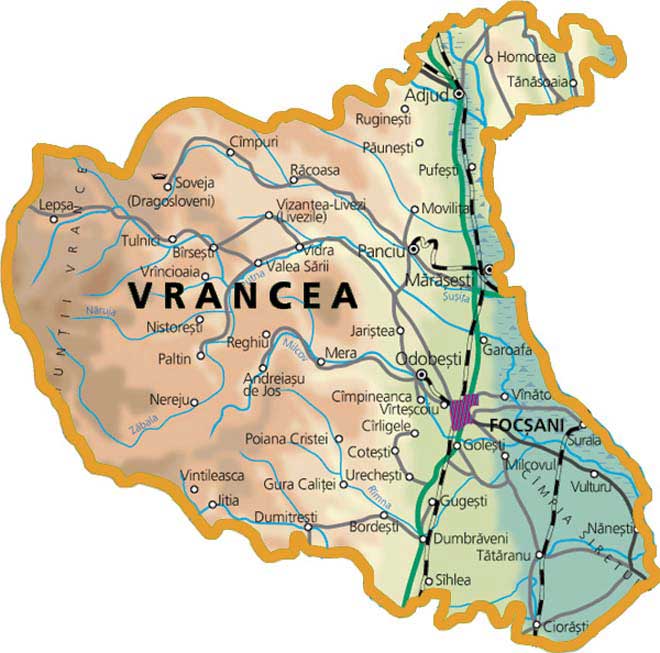 Țara Vrancei – destination of European excellence
Vrancea County Council submitted the project "ŢARA VRANCEI-DESTINAŢIE DE EXCELENŢĂ EUROPEANĂ" ("VRANCEA COUNTRY-DESTINATION OF EUROPEAN EXCELLENCE") in the framework of the pilot project "European Destinations of Excellence – Tourism and the intangible local heritage", launched by the European Commission.
The project, carried out in partnership with the County Center for Conservation and Promotion of Traditional Culture Vrancea and ANTREC Southeast, aims to promote to Europe level the values of the local culture, the tourist potential and the elements of uniqueness and originality that the tourist can find in each of the localities included in this area: Vidra, Valea Sarii, Naruja, Paltin, Spulber, Nereju, Vrâncioaia, Barsesti, Negrilesti and Tulnici.
The project of the Vrancea County Council won the third place out of 36 submitted projects and 15 evaluated destinations, following the evaluation of the application for funding and field inspections by the representatives of the Ministry of Small and Medium-sized Enterprises, Trade, Tourism and Liberal Professions.
As such, the Vrancea Country, alongside the Horezu Depression and Făgăraş Land, will be promoted and recognized at European level as a "European Destination of Excellence" and the Vrancea County Council will be awarded nationally.
European promotion will ensure the attraction of tourists and investors in the area targeted by the project and the development of several forms of tourism (by integrating the proposed area as a destination of excellence in an international tourist circuit): ecotourism, cultural tourism, business, balneary, agrotourism, ecumenical and sport tourism.